YTL Communications Emerges as Winner of Best Enterprise Cloud Offering at 2014 Telecoms.com Industry Awards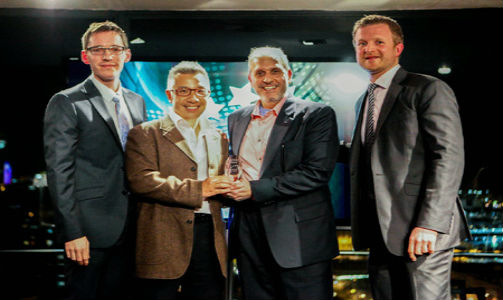 Kuala Lumpur, March 12, 2014
YTL Communications adds one more international award to its growing list of accolades with its recent win of the "Best Enterprise Cloud Offering" at the 2014 Telecoms.com Industry Awards held during the week of Mobile World Congress in Barcelona, for the implementation of cloud-based Frog virtual learning platform solution via its Yes 4G Internet in all national schools across Malaysia.
Malaysia's leading broadband service provider won against strong competition from three other finalists namely Ericsson, Indosat and Telstra Global in the award category, which acknowledges innovation in commercial, enterprise cloud service offering, functionality, flexibility, targeting, collaboration as well as uptake and usage.
This win came in just a few months after YTL Communications was awarded the "Best Broadband Cloud" at the 2013 Broadband InfoVision Awards, also in recognition of the company's effort in revolutionising the way learning and teaching takes place in the Malaysian schools through technology and the Internet.
For Chief Executive Officer of YTL Communications Wing K. Lee, this latest award further validates that cloud computing is clearly the future for the education landscape as well as for business enterprises.
"We are thrilled to be recognised for our industry leadership with this prestigious award. Our vision and hard work in building a nationwide mobile internet infrastructure and to elegantly leverage our Yes ID architecture to layer on top of the Frog virtual learning platform complete with content and collaboration services have once again caught the world's attention as we enable a digital economy," Wing said.
The inaugural Telecoms.com Industry Awards is a new platform that celebrates the wide-ranging achievements of the key players within the global communications industry. The awards honour industry excellence in everything from the most ground-breaking advances in network technology and services delivered over those networks, from line innovations in customer service, enterprise cloud offerings and the use of green technology.
Back